Posted:
February 28th, 2014 |
Author:
Michael Courtenay
|
Filed under:
Digital Media
,
Favorite New Thought
,
Media
,
Print Media
|
Tags:
Australian Newspapers
,
Australian Print Media
,
New Weekend Newspaper
,
Print Media News
,
The Saturday Paper
|
1 Comment »
A crisp new weekend newspaper has hit the stands in Sydney, Canberra and Melbourne this morning, hoping to prove that print media can thrive in this digital age. The Saturday Paper is produced by property developer and publisher  Morry Schwartz – the man behind the influential Quarterly Essay and The Monthly – The Saturday Paper is edited by 25-year-young former Fairfax journalist Erik Jensen.
The Saturday Paper will be on stands each weekend in print, it'll also be published online and as a mobile app. Mr Schwartz has attracted some heavy hitting pens to the new paper, including former Fairfax journalist, author and social commentator David Marr ::::
Follow The Saturday Paper on Twitter: @

SatPaper
The new paper's twitter feed was filled with congratulations  this morning – and more than a few subscription inquiries – The front page story – by Sophie Morris – was a huge hit, the paper proclaiming itself a success.
At the publication's launch in Sydney last night, Communications Minister Malcolm Turnbull wished the publishers luck in bucking the revenue trades plaguing the newspaper industry.
"The internet has smashed the business model of those papers by providing a more cost-effective platform for advertising," Mr Turnbull said. "But the launch of the Saturday Paper today shows rumours of the death of newspapers, even printed ones, appear to be exaggerated. Even though I expect to disagree with a lot of things in your paper, I probably agree with quite a few too. I welcome that diversity. We should rejoice in our democracy and the diversity of our news and our journalism."
The newspapers launch coincides with shrinking – in size, from broadsheet – of the popular Fairfax Saturday papers, The Age and Sydney Morning Herald.
Mr Schwartz announced The Saturday Paper late last year, promising a "quality" new paper.
"This is a list of big voices and brilliant writers. I am enormously proud to publish each of them." Morry Schwartz said "The Saturday Paper is materialising before our eyes as a major force in Australian journalism."
The Saturday Paper is offering a Foundation Subscriber price of $99 for a year's print subscription, the paper's cover price is $3.
Subscription for either the paper or digital version is available at: www.thesaturdaypaper.com.au/subscribe/ Check the online version: www.thesaturdaypaper.com.au
RELATED! Morry Schwartz Launching New Paper
Schwartz Media is happy to announce that The Saturday Paper, a quality weekly newspaper from the publisher of the Monthly, will launch in print and online on March 1.
The Saturday Paper can also announce the first of its contributors – a stable of the best writers in Australian journalism, as well as new voices and well known figures who have not previously appeared in print.
David Marr, the country's finest long-form journalist, joins the paper as a columnist. Hamish McDonald joins as world editor and Kirsty Simpson as business editor. Martin McKenzie-Murray joins The Saturday Paper as chief correspondent in Melbourne and Sophie Morris, formally of the Australian Financial Review, will write as Canberra correspondent. Richard Cooke has been appointed sports editor.
Christos Tsiolkas, the author of The Slap and Barracuda, is The Saturday Paper's film critic. He is joined by Tim Freedman and Dave Faulkner, who will write as the paper's music critics. Helen Razer will write on television for the paper.
Andrew McConnell, the owner of Cutler & Co., joins as food editor. Women's Wear Daily correspondent Patty Huntington will work as the paper's fashion editor and Lucy Feagins from The Design Files will anchor its interiors content. Mungo MacCallum will provide his storied cryptic crossword each week.
The Saturday Paper is a quality weekly newspaper, dedicated to long-form journalism – to writing that breaks big stories and gets behind the news of the week. It will be available in print in Sydney, Melbourne and Canberra, and as a website and an app everywhere else :: Read the full Saturday Paper »»»»
RELATED! Daily Mail Online to Launch Australian Edition

Britain's Daily Mail plans to launch an Australian edition of its website next year in a joint venture with Nine Entertainment. The Mail, whose site is the world's most popular for an English-language newspaper, will base its editorial offices in Sydney and plans to recruit around 50 journalists :: Read the full article »»»»
RELATED! Fairfax's BRW Going Digital ONLY
Fairfax Media is closing the print edition of it's weekly business magazine – BRW, formerly Business Review Weekly – after 32 years, as the company continues to shrink its workforce amid a major overhaul of its print operations.
The last issue of the weekly business magazine will be published on November 28, Fairfax's director of business media Sean Aylmer has told BRW staff. A number of BRW's senior reporters are highly regarded within their area of expertise.
The magazines publisher, Amanda Gome, says she is incredibly proud of the team behind BRW's web presence and believes the publication will migrate successfully to a digital only version :: Read the full article »»»»
RELATED! The Saturday Paper: who on earth would launch a newspaper today?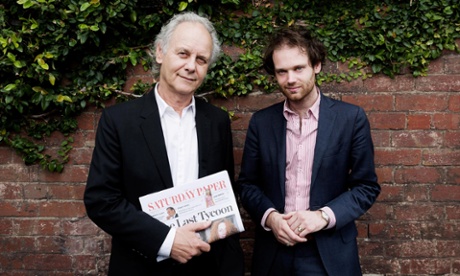 Morry Schwartz shares a birthday with Rupert Murdoch – a fact which, he laughingly agrees, might be enough to disprove astrology. The progressive Melburnian is not a fan of the newspaper mogul.
Yet watching Schwartz fondle the dummy edition of the newspaper he is about to launch, it is clear that he shares one characteristic with his more famous fellow Australian. He loves newspapers – the tactile, manufactured, rustling dead-tree artefact. He loves the type, the paper, the layout and the words. He can't keep his hands off them :: Read the full Guardian article »»»»
source: saturdaypaper
source: manta
source: blackinc
reblog source: theguardian
image source: abc/indeepmedia/twitter
---